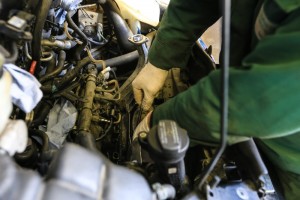 We can service most makes of car. We are an independent garage, you will find that the range of diagnostic equipment we use is of a similar specification to those more commonly found in a large franchised 'main dealer'. We have invested heavily in equipping our workshops with a comprehensive range of specialist tools & training, typically this means any popular makes and some Japanese cars. We specialise in MOT and servicing and are equipped to meet the requirements of most manufacturers. We use genuine or similar quality replacement parts as appropriate.
Servicing and MOT of most popular makes and some Japanese cars
We carry out full steering suspension geometry checks & testing using latest Hunter all four wheel alignment system. More details of our equipment can be found atwww.alignmycar.co.uk
We use information from AUTODATA database to access service schedules and recommended repair times, allowing us to issue computerised job estimates and fully-itemised invoices. We maintain a complete service history of our customers vehicles and provide them with automated reminders of pending MOT.
We also repair punctures where possible
Our practices – we deal with our customers as we would wish to be dealt with ourselves. Our service is courteous efficient and thorough, our premises are clean, tidy and customer friendly. We run modern (free of charge) courtesy cars for our customers whilst your vehicle is in for repair, and can provide a local pickup / delivery service too. In the unlikely event of any problem remaining unresolved, the free services of an independent arbitration service via the RMIF. Finally, we pride ourselves in communication, endeavouring to keep you informed at all times – before, during and after we carry out repairs / service.
Discounted MOTs
The current MOT fee as laid down by the government body VOSA is £54.85
It is not company policy to automatically discount the MOT fee to create a marketing initiative, as in our opinion this could compromise vehicle safety.
In addition to the VOSA report on the MOT, we advise customers on all aspects that in our opinion could effect the safety of the vehicle and could cause MOT failures e.g. tyres, wheel alignment, suspension, etc.
When vehicles are presented for MOT and an intermediate or major service, a reduction in labour costs of the service (approx £20.00) will be made where items are duplicated. This we believe to be an honest approach to MOT discounting.
Class 4 MOT testing
We offer a second to none MOT testing facility. Our engineers are instructed to contact you should any remedial work be required for your MOT before any work is carried out.
Any work that we do on your car will be fully guaranteed by ourselves.
Chassis Welding & Repair
Wear and tear and corrosion, as well as damage caused by accidents, can sometimes mean your car requires expert professional welding.
Damage to the frame of a car can weaken the structure and cause a vehicle to fail its MOT, so for the sake of safety and keeping you on the road, it's important to engage the services of a specialist.  Sometimes the area which needs to be repaired is small, and can be corrected with a spot repair. However larger jobs involving the chassis or the frame may require a significant amount of welding.  Among the areas of a vehicle which commonly need welding are suspension mounts, wheel arches, floor panels, doors and exhausts. As well as getting you through the MOT a good welder can extend the life of your car and, most importantly, keep you and your passengers safe.